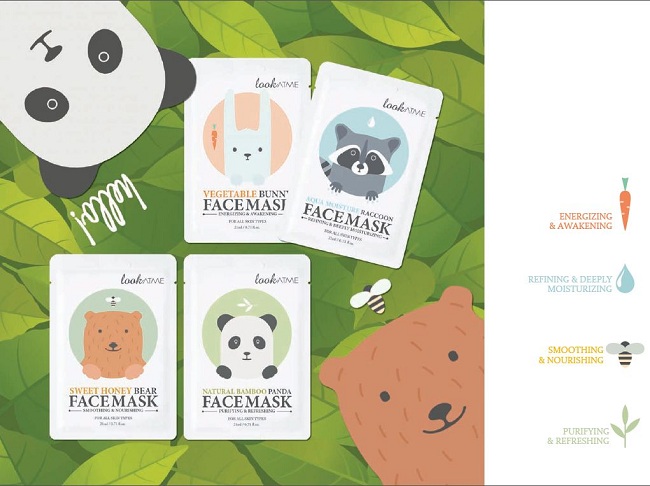 VEGETABLE BUNNY FACE MASK (21ml) [ENERGIZING & AWAKENING]
The energizing and refreshing Vegetable Bunny Mask visibly awaken fatigued skin. Hordeum Vulgare
Seed Extract and Hydrolyzed Collagen help support skin's barrier function to keep skin looking
radiant, soft, and healthy.
AQUA MOISTURE RACCOON FACE MASK (21ml) [REFINING & DEEPLY MOISTURIZING]
Rich in hyaluronic acid, helps improve the appearance of fine lines, revives dull, dry, and dehydrated
skin, leaving skin looking and feeling happier and healthier. You'll feel a dramatic moisture boost,
SWEET HONEY BEAR FACE MASK (21ml) [SMOOTHING & NOURISHING]
Enriched with Honey and Propolis Extract to help refresh and energize skin leaving it feeling soft, smooth
and supple.The lightweight texture absorbs fast and offers hydration without leaving a greasy residue.
NATURAL BAMBOO PANDA FACE MASK (21ml) [PURIFYING & REFRESHING]
This energizing face sheet mask helps skin feel refreshed and invigorated. Enriched with bamboo
waterlock complex to help bring moisture to the skin and lock in moisture.